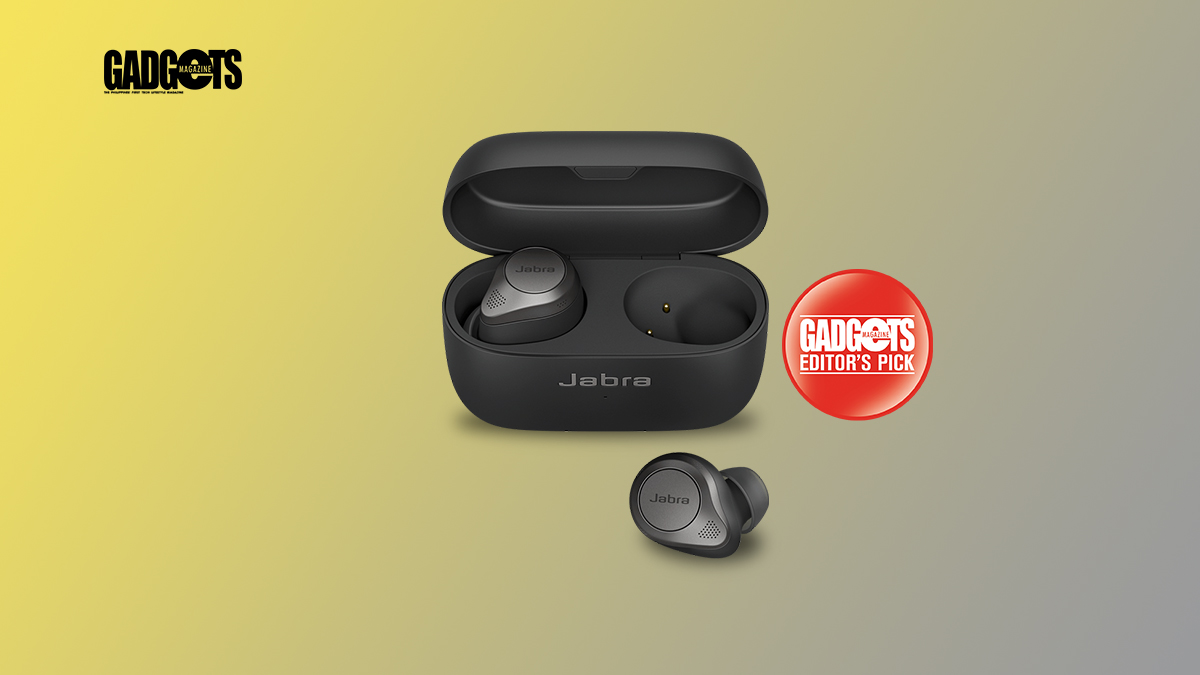 When I attended the Asia-Pacific virtual launch of the Jabra Elite 85t last November, I wished so hard I would be one of the lucky winners who would get first dibs at these new active noise canceling true wireless earbuds. That didn't happen, so I'm happy that Jabra has lent me a pair that I can test for the next few weeks.
Design: 4/5
The Elite 85t is a worthy successor to the Elite 75t, building on the strengths of the latter. Design-wise, they look very similar except that the 85t has grown slightly heavier, possibly due to hardware enhancements. Each 85t earbud is slightly heftier at 7g, making it 1.5g heavier than its predecessor. The additional weight is hardly noticeable, and you can still wear them comfortably for extended periods.
Thousands of ear shapes helped Jabra design the Elite 85t to ensure audio quality along with great fit and whole day comfort. One improvement introduced in the Elite 85t is its semi-open design with pressure relief vents.
The silicone ear gels have been reshaped to be more slightly oval and are supposed to come in three sizes (S, M, L) `to ensure the best fit. Unfortunately, the spare ear gels appear to be missing from the package.
The black plastic charging case has a USB-C port at the back for wired charging and is also compatible with Qi wireless chargers.
Hardware: 4.5/5
Possibly the most outstanding feature of the Elite 85t is the Advanced Active Noise Cancellation (ANC) technology built into such a compact body. The dedicated ANC chip offers complete digital control from full ANC to full hear through.
The Elite 85t features 12mm speakers that deliver outstanding audio quality. Its 6-microphone technology reduces noise for incoming voice calls while protecting against wind noise for outgoing voice audio. Additionally, a sidetone allows you to hear your own voice more naturally during calls.
Its lithium-ion battery can be fully charged in 3hrs on a dedicated 500mA USB-C wall charger or 3.5hrs via a wireless charger. With ANC activated, battery life is 5.5hrs on the earbuds plus an additional 19.5hrs from the charging case. Without ANC, the earbuds deliver 7hrs of use, plus 24hrs from the charging case. Standby time can last up to 6 months.
Bluetooth 5.1 technology allows pairing with up to 8 devices, with two devices connected simultaneously. Operating range is the usual 10m. With auto power on/off, the earbuds turn on when taken out of the case and automatically turn off after 15 minutes without a connection or 30 minutes without activity.
User Experience: 4.5/5
As I've mentioned in previous reviews, the thing I love most about Jabra is that they're probably the only truly multipoint Bluetooth headsets with the capability to pair with two devices simultaneously. This means I can be watching a Netflix video on my
iPad and still be able to answer calls that come in on my iPhone without having to disconnect/connect.
Overall, there is a marked improvement in the Elite 85t's audio quality over the previous 75t, thanks to larger and more powerful 12mm speakers. Sound is fuller, more well-rounded, and more balanced. Plus, the Sound+ app allows you to further configure the earbuds according to your preferences.
I've never really liked noise-canceling headphones because I want to keep some level of awareness about what's going on around me. Plus, noise-canceling headsets tend to create uncomfortable pressure build-up inside my ears, and I don't like feeling like I'm in a plane. Jabra has very smartly addressed both issues with its fully-adjustable ANC,
so you can opt to allow some level of ambient noise while a semi-open design prevents ear blockage.
Call quality is also noticeably improved, thanks to the three microphones on each earbud—two on the outside and one on the inside. These filter out ambient noises to ensure clarity on both ends of the call.
A final note, the Jabra Sound+ app is an absolute essential to optimize the use of the Elite 85t, offering everything from firmware updates, control over ANC, ambient noise soundscapes, and equalizer settings for various listening modes. It even includes a headphone locator in case you misplace your Elite 85t.
Value: 3.5/5
The Elite 85t does not come cheap with its PHP 11,999 price tag, so you will need to justify the cost in terms of the amount of use and convenience that this pair of noise-canceling true wireless earbuds can offer you.
Specifications:
Wearing style: True wireless in-ear
Speaker size: 12mm
Speaker bandwidth: 20Hz to 20kHz
Microphone type: 6 x MEMS
Microphone bandwidth: 100Hz to 10kHz
Battery life: 5.5hrs earbuds, 19.5hrs charging case
Charging time: 3hrs for full charge
Charging mode: USB-C, wireless charging-enabled
Standby time: 6 months
Weight: 7g per earbud, 45.1g charging case
Noise cancellation: Active noise cancellation, adjustable hearthrough
Connectivity: Bluetooth 5.1
Operating range: Up to 10m
Connection: Multi-connect, two simultaneous devices
Controls: Sound+ app
IP rating: IPX4-rating
What's Hot:
Personalization through the Sound+ app
Active noise cancellation with hear-through
Six mic technology
What's Not:
Spare eargels missing from package
Premium-priced
BOTTOMLINE
Possibly one of the best earbuds in the market.
Reviewed by Maribelle Alba
Also published in Gadgets Magazine January 2021 Issue