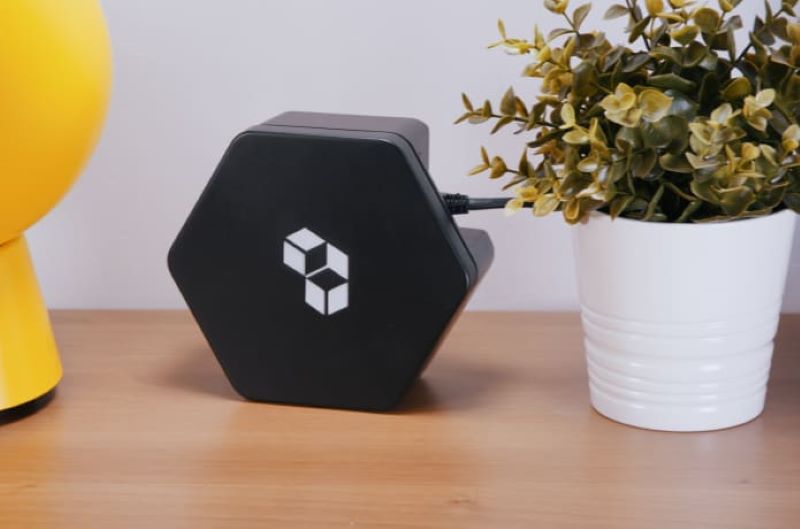 CROWDFUNDING NEWS – There's a new Kickstarter project that offers up to 4Tb of cloud storage for life with the purchase of a device called a Cubbit. The system works off of a distributed cloud of users made up of the backers, and it purports to be completely private and greener than traditional cloud storage systems.
The Cubbit system uses distributed architecture where the users form a collaborative network of storage. So theoretically, I'm not storing my own data, I'm storing other people's data (really a part of a bunch of other people's data) who also own the Cubbit device. The Cubbit Cell, which backers receive for a pledge of about $485, can host up to four independent cloud accounts with instant upload and fast speeds, according to the Kickstarter page.
You provide the hard drive and the Cubbit device provides end-to-end encryption and distributes your data over the "swarm" of Cubbit Cells, which is retrievable through parallel peer-to-peer connections.
If you're like me, you're thinking: "But what happens if a Cubbit storing my wedding pictures is in a house that burns down on the other side of the planet?" Cubbit has built-in redundancy that estimates the chances of data loss at less than one in a million.
This all sounds so great, and I'm sure in the beginning this project will work fine while everyone is excited about participating. But how much do you trust that 30 years from now all the Cubbit owners will still be alive and interested in keeping the Cubbit operating? They say that when a Cubbit goes offline a recovery procedure is triggered, but at some point there must be a threshold where data loss must occur, however unlikely.
Check it out on the Cubbit Kickstarter page.

Support The Gadgeteer:
We may earn a small affiliate commission from purchases made from buying through links on our site. As an Amazon Associate I earn from qualifying purchases. Learn more.