Night City holds many secrets, and some of these happen to be legendary armors. Here's our guide to help you find these free legendary armors as you explore the world of Cyberpunk 2077.
Note: For more information, check out our Cyberpunk 2077 guides and features hub.
Cyberpunk 2077 guide: Legendary armor locations
For the sake of clarity, I divided this guide into multiple parts pertaining to each district in Cyberpunk 2077. Moreover, I've avoided adding the legendary armors that can be obtained as quest rewards. These are all from free-roaming or regular exploration:
Note 1: Before you pick up a legendary armor piece, make sure to save your game first. Upon looting the item, you can inspect to see whether it's got several epic or legendary mods already. If you're not happy with what it has, you can reload to, hopefully, get better stuff.
Note 2: In a couple of cases, it's possible to get completely different legendary armors. For instance, instead of the Duolayer Polyamide Rocker Vest, I got the Reinforced Composite-lined Rocker Foldtop (which looks weird). I'm personally uncertain as to what causes this.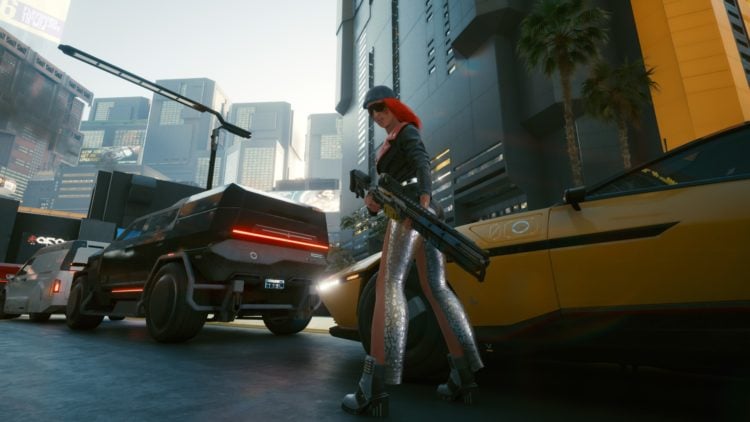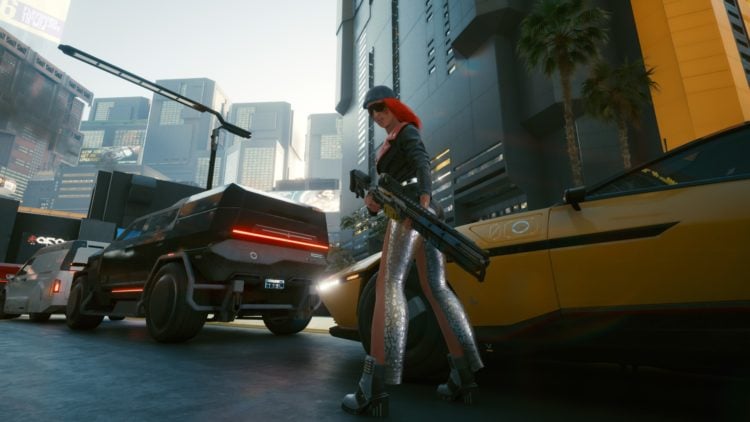 Watson District
Here are the legendary armor pieces you'll find in Cyberpunk 2077's Watson district.
There are four in the Northside area, but two of these are, well, further north:
1. Breathable Reinforced Bio-Cotton Corporate Slacks
This legendary armor is found in Northside, so just pick any nearby fast travel point. You'll find it on a corpse in an abandoned parking lot.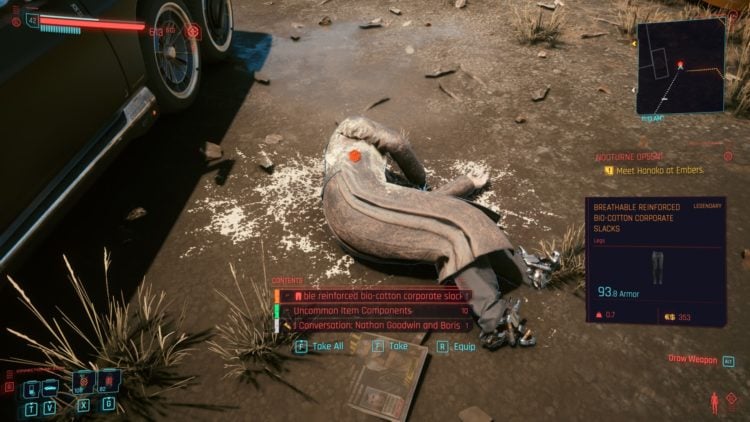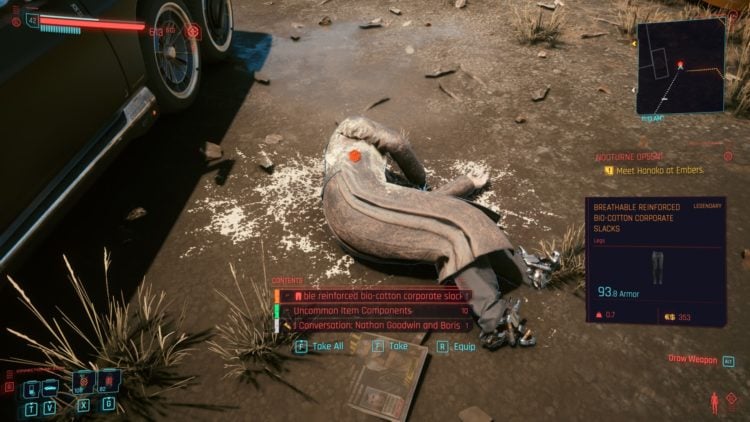 2. Corporate Blazer with Bulletproof Lining
Head to the power plant until you see a neon sign that says Barely Illegal. You can loot the dead body here.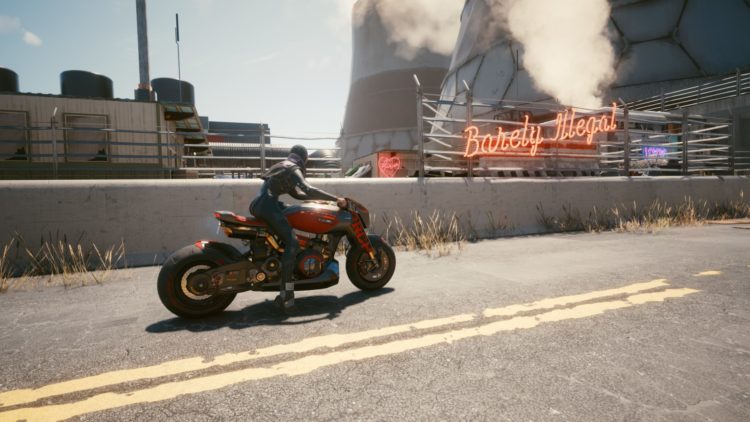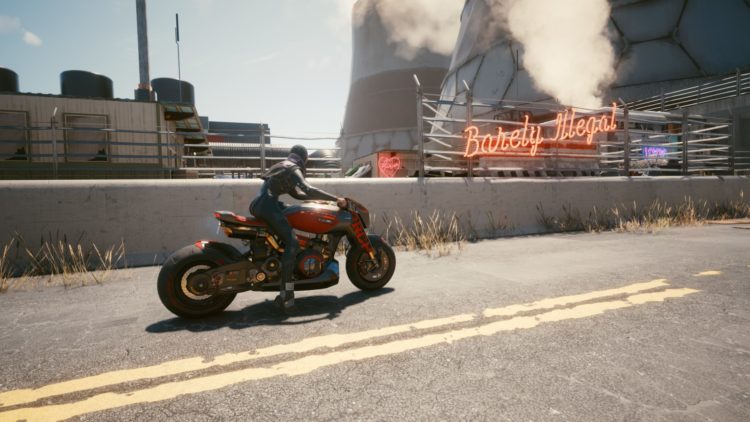 Two legendary armors are in the southern section of Northside fairly close to the Arasaka Waterfront area: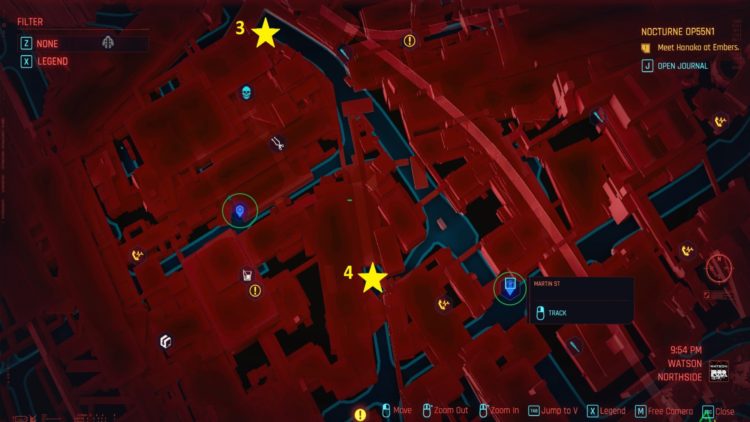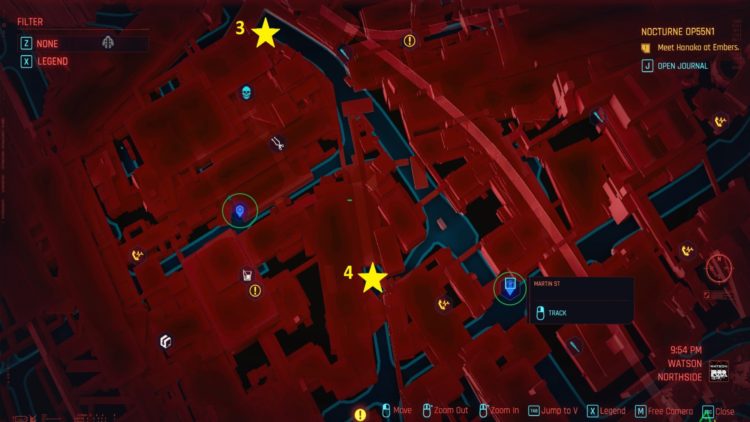 3. Dura-Membrane Netrunner Pants
Teleport to the Pershing St. fast travel station, then walk to the northeast. You should see a couple of circular water tanks.
Climb the stairwell and you'll see a dead Netrunner who has the legendary armor.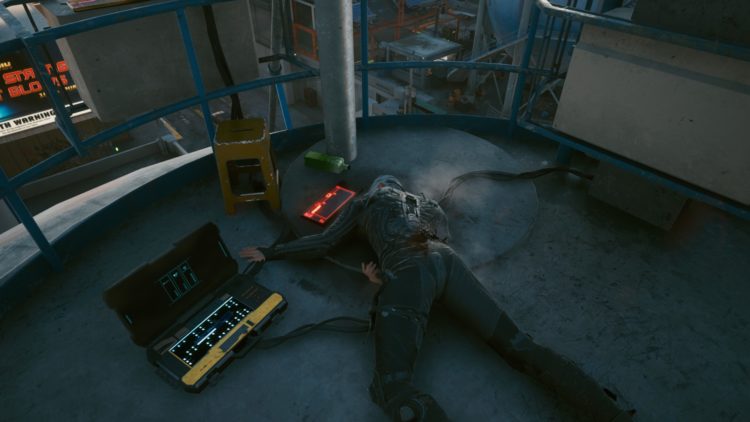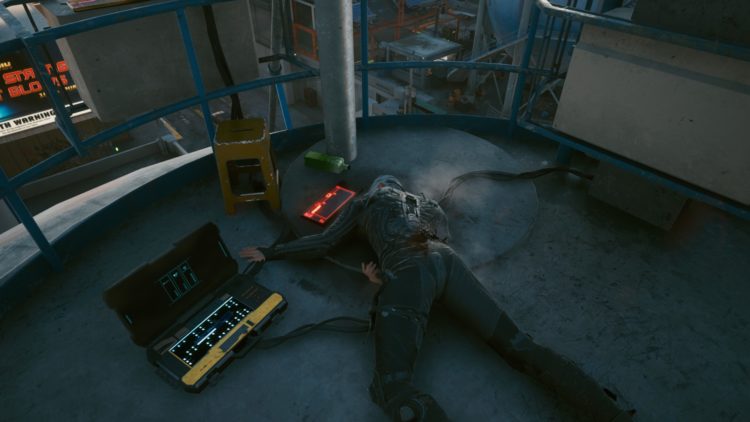 4. Holo-tinted Badge Goggles
Fast travel to Martin St. and head to the alleyway to the west. You'll find some gangsters partying nearby, and one's even pissing on the ground.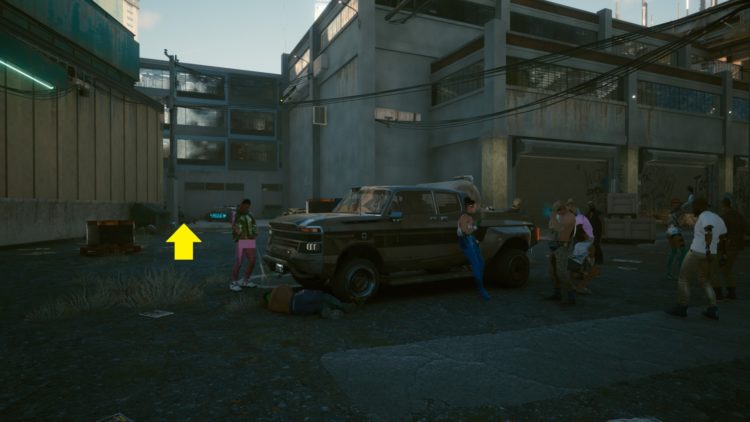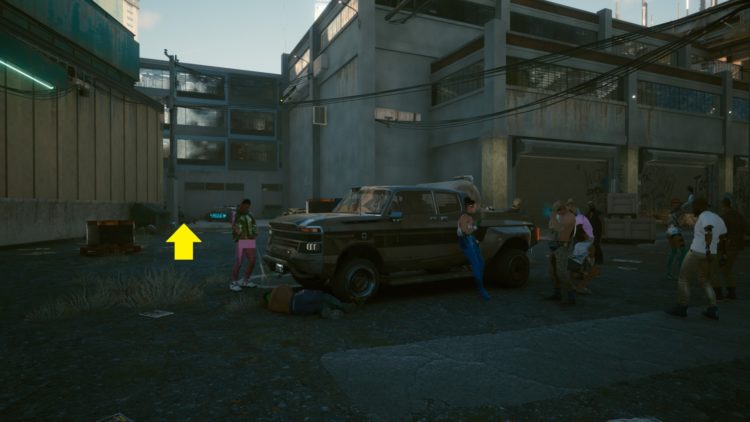 Go to the police car in the distance. There's a dead cop here with the legendary armor.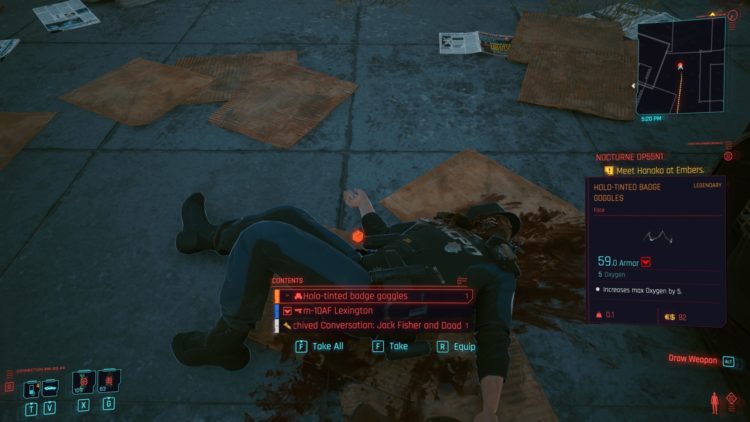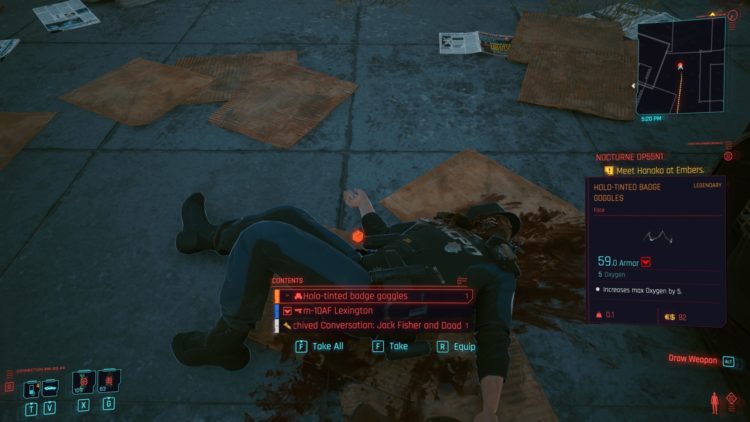 The last three items are in the Little China and Kabuki areas: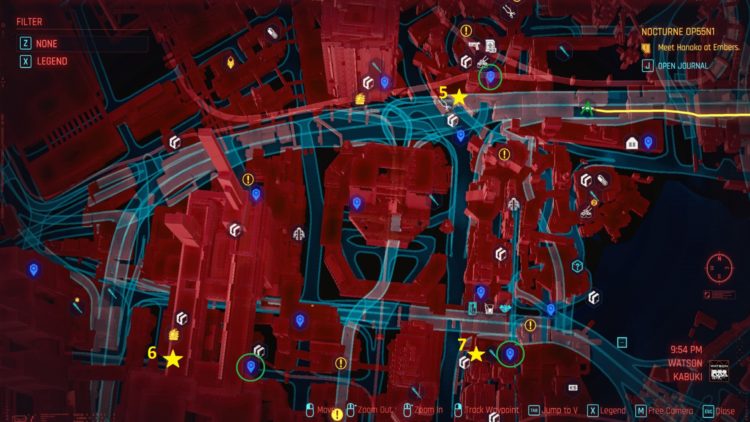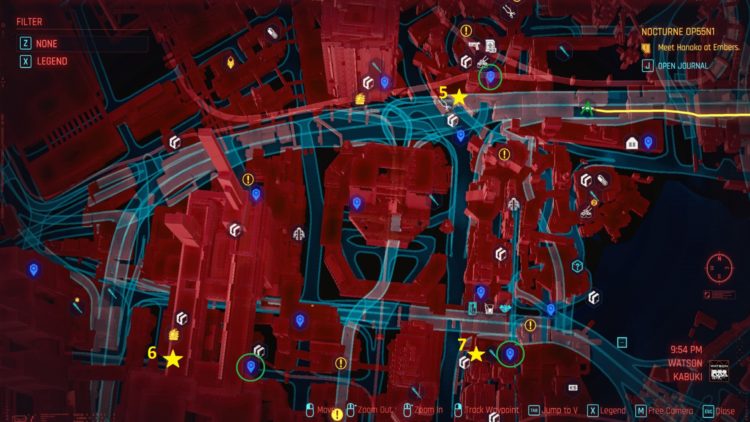 5. Gold-tipped Manganese Steel Solo Boots
When you reach the Kabuki Market station, look behind you to spot an alleyway that leads to another street market.
Head down the steps and to your left. There's an elevator here.
Upon reaching the third floor, you'll find the legendary armor inside a crate.
6. Anti-puncture Neotac Pants with Composite Lining
Fast travel to Metro: Farrier St. and head west. Follow the street until you see neon signs depicting a bullseye and several arrows.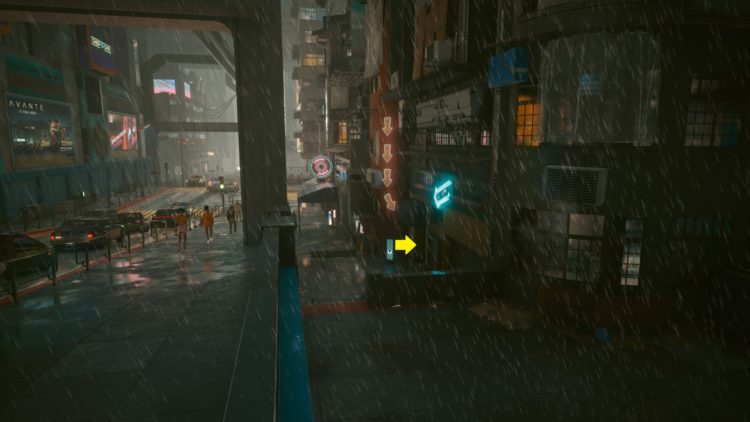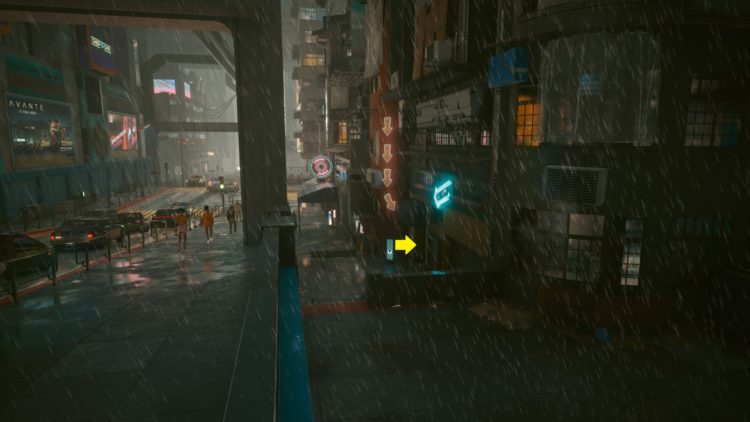 The dead cop here has the item.
7. Duolayer Polyamide Rocker Vest or Reinforced Composite-lined Rocker Foldtop
Fast travel to Bellevue Overwalk. You should see a stairwell to your left that leads to a walkway.
The dead body here has the item. It might be different whenever you reload your save.
Anyway, let's look at the legendary armors in Cyberpunk 2077's Westbrook District.