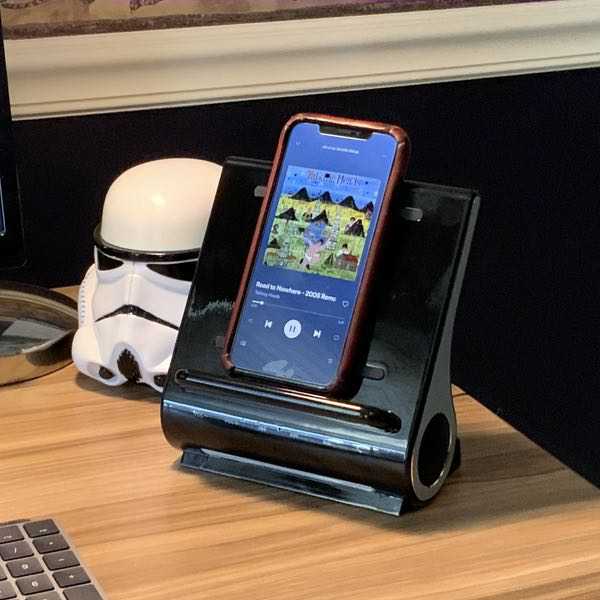 REVIEW – I love me a good desktop multitasker, and the Aspen DockAll D115 promises to do all the things. This phone stand charges wirelessly plays your music and more from one device. How does it To the review!
What is it?
It's a phone stand that includes wireless charging, stereo speakers, and a microphone for phone calls. It also has additional USB ports for other devices.
Hardware specs
15 Super Fast Qi Wireless Charging
3 charging coils for vertical & horizontal device orientations and larger devices
Bluetooth Hi-Fi stereo
Integrated omnidirectional microphone
2 USB ports
Micro-SD port
1.6 pounds
Design and features
The Aspen DockAll D115 is a good looking addition to your desktop, countertop, or bookshelf. It's clean black design with aluminum highlights blends in nicely with the decor.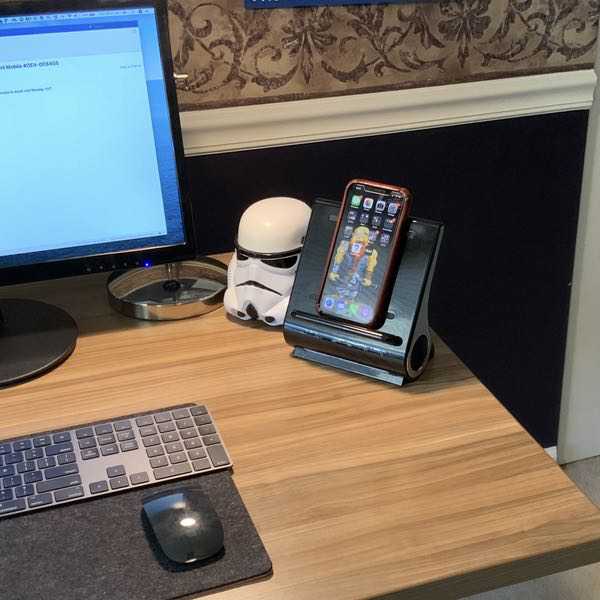 It's also nice and compact. I have an iPhone XS Max in it's case set in the cradle here for reference.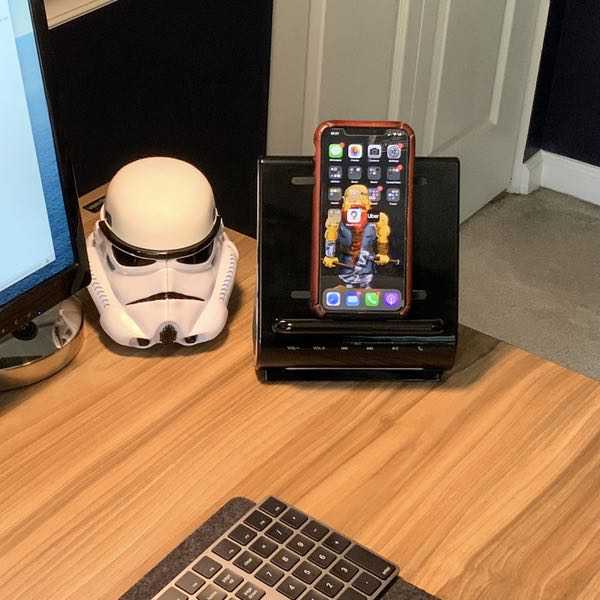 Your phone sits at a fixed angle on the stand which is ideal for viewing.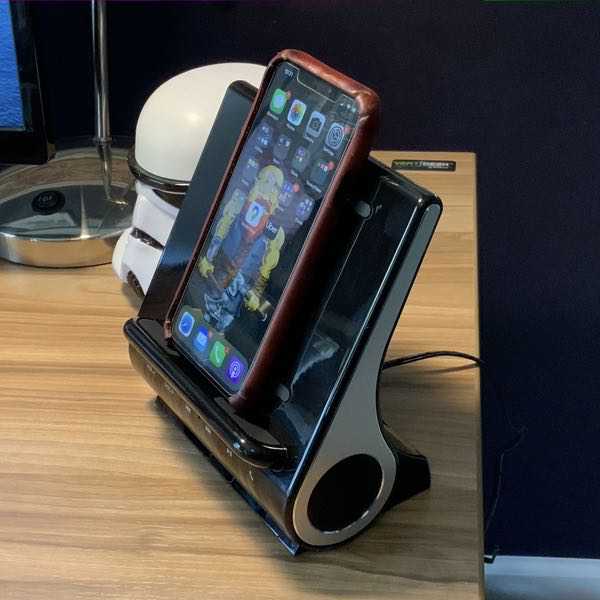 The DockAll is a Qi-enabled wireless charger with three wireless coils built vertically into the panel. That means that you can use it for multiple sized devices in either vertical or horizontal orientation and still hit your charging spot. I also like the addition of the little bumpers on the panel and the shelf for phone protection.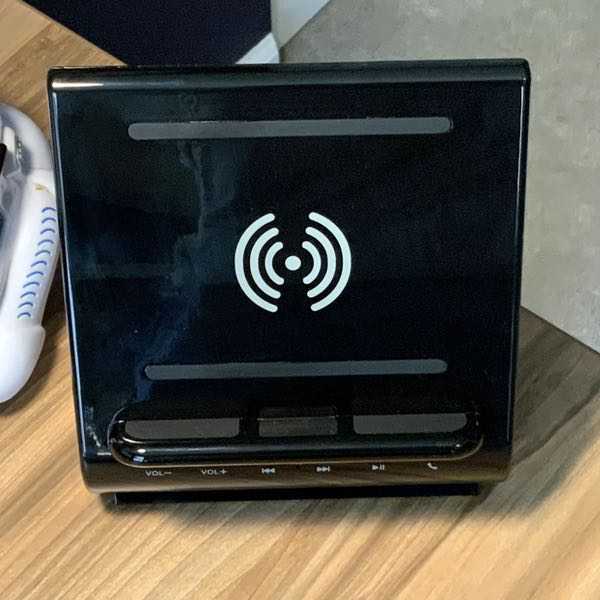 Just below the shelf are your controls. You'll connect your device via Bluetooth. Once connected, you'll find the usual collection of audio controls (volume up/down, previous/next track, play/pause, and phone activation).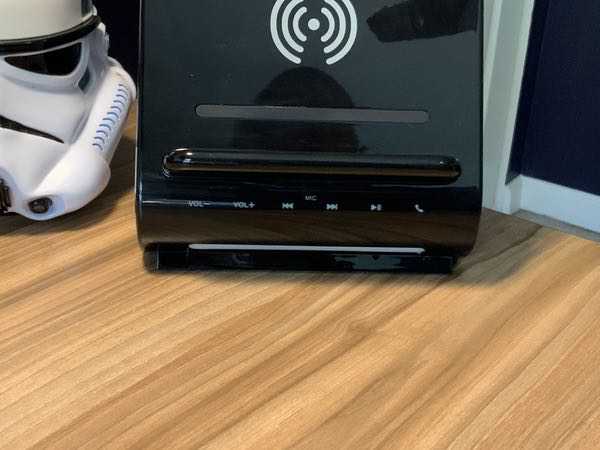 And then you get your speakers. You'll see them on either side near the base. There are additional bass ports on the back side of the unit.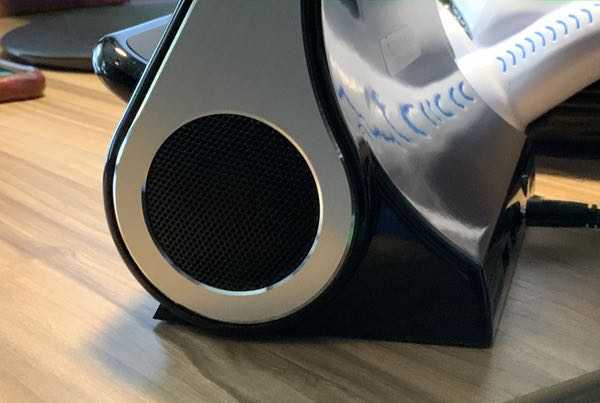 Speaking of the back side… you've got more options for connections here. There are two USB ports for charging and a Micro-SD port.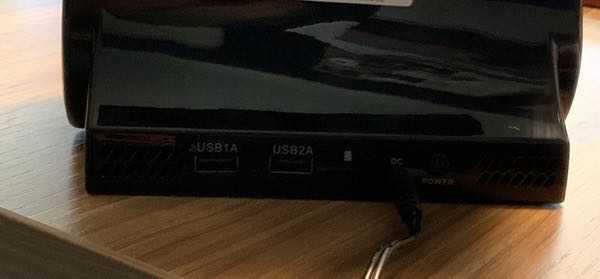 You'll fire up your favorite music or podcast app, then use the controls to manipulate all of your performance needs.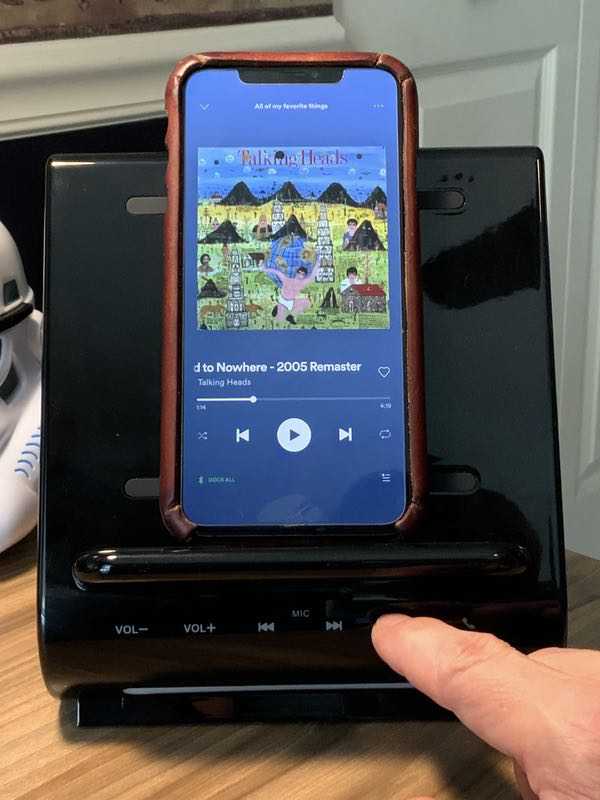 If you have an incoming call, you press the phone button to answer and disconnect. Audio comes through the speakers and the microphone does its thing.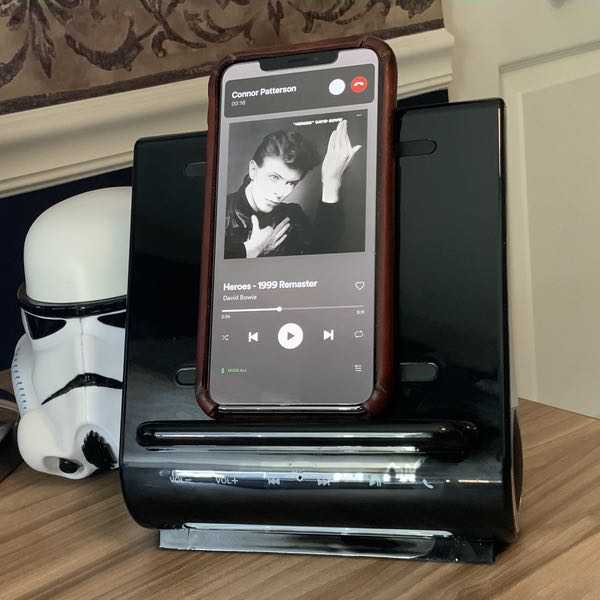 Performance
The Aspen DockAll D115 executes all of those multitasking functions pretty well, but the integration has some good and bad points that aren't dissimilar to other speakers and headphones I've tested in the past.
Audio quality is pretty good for what it is. It's not a high-end system, but the stereo quality is clear and bright with a broad volume range. The front-panel controls are nice and easy to access and provide a basic range of functions.
If you have an incoming call, you press the phone button to answer. It's actually pretty good for conference calls. The microphone is fine for what it is and incoming audio is clear. I did not hear any issues from folks on the other side of the call in my testing.
I have noticed that there are some quirks with the volume controls. It actually has better volume refinement than the iPhone default settings (think 20 volume levels as opposed to the 10 or so that the iPhone manages), but it tends to default to a very loud volume when first connected. That means I am usually having to dial down the loudness right after pairing. Once you're connected, however, the stereo is good and the onboard controls allow for nice adjustment levels.
I've also noticed that the Bluetooth automatically disconnects if the phone sits in the cradle without playing for 5 minutes or so. You just need to press "play" on the panel controls to reconnect, but this can be annoying if you're popping back and forth between web conferences and playing your stuff. There's also a power button on the back that you can hit to stop all charging and pairing.
The call management is very similar to wireless earbuds or other Bluetooth speakers. It works when it comes to answering calls, but sometimes it's just easier to use the phone's native controls.
The extra USB ports are great. I'm always looking for another charging port for headphones and devices, and it's nice to have these ports integrated into the unit to save desktop space and/or room on my power strips.
What I like
Good looking, compact desktop/countertop accessory
Great audio quality
Wireless charging for multiple device sizes
Extra USB charging ports are a nice plus for peripherals and accessories
What needs to be improved
Call management functions could be better
Final thoughts
The Aspen DockAll D115 is a solid multitasker that does a good job of incorporating multiple functions into one desktop accessory. The charging functions are great. Some of the integrations are a little quirky but no better or worse than other Bluetooth speakers.
Price: $98.50
Where to buy: Amazon.
Source: The sample of this product was provided by Azpen.

Support The Gadgeteer:
We may earn a small affiliate commission from purchases made from buying through links on our site. As an Amazon Associate I earn from qualifying purchases. Learn more.